Kimya launched a new high-performance 3D filament named Kimya PC-FR, which is a perfect choice for the needs of the transport industry. miniFactory and Kimya have been cooperating closely since 2018. We want to offer customers thoroughly tested and reliable additive manufacturing of end-use parts. PC-FR is the newest addition to miniFactory's selection among the already existing Kimya materials. In our earlier announcement, we presented how Kimya PEI1010, Kimya PEI9085, Kimya PPSU, Kimya PEKK-A and the food-approved Kimya PC-S were validated in the miniFactory Ultra system.
EN45545-2 certified Kimya PC-FR
Kimya PC-FR is a ready-to-use fire-smoke polycarbonate plastic. Certified to EN45545-2 level HL1/HL2/HL3/R1 and R6, Kimya PC-FR filament is particularly interesting for applications in sectors concerned with fire safety such as mass transportation (rail, aviation and naval). The material can withstand a temperature range of -80°C to 105°C and has good dimensional stability.
Nicolas Morand, R&D, Innovation and Industrialization manager at KIMYA:
"Due to its specific technical characteristics, Kimya PC-FR is an ideal material for printing mechanisms and railway parts that are subject to high heat, such as runners to increase the wheel-rail adhesion of a train in case of emergency braking."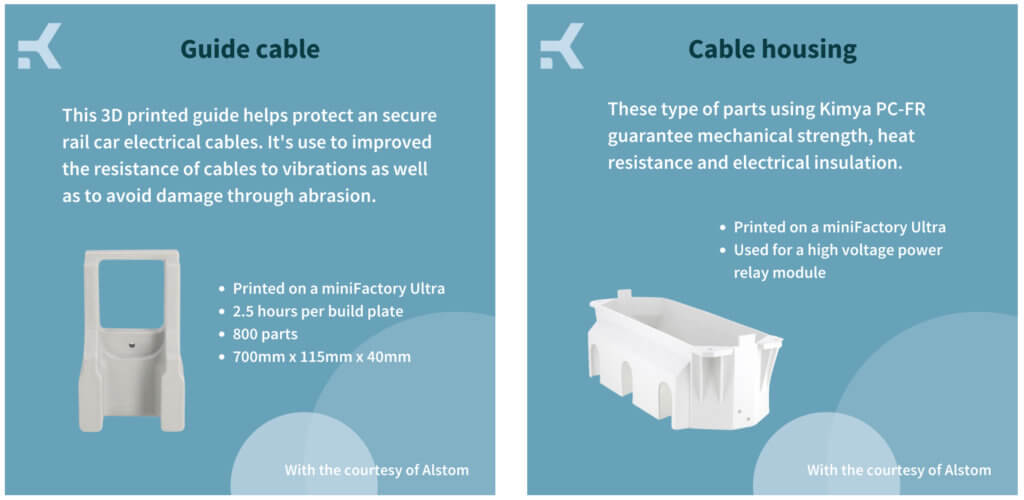 3D printing in Railway industry
The life cycle of trains can be up to 30 years, which presents a major challenge for spare parts. Some spare parts also change as development progresses, which is a challenge for traditional manufacturing methods. Spare parts for newer trains are often widely available. When it comes to a train more than 15 years old, the issue is much more complicated. In most cases, such spare parts are no longer available, or tools do not exist. This makes the cost of manufacturing individual parts very high and unprofitable for everyone involved in the process. Read more about 3D printing applications in in Railway.