Download presentations
Would you like to get more in-depth information about our 3D printer, process monitoring system or the properties and applications of different ultra polymers.
Download the presentations for free or contact us for more information.
Ultra
Industrial 3D Printer
Robust tool for professionals.
Take a closer look of specifiaction and key advantages of the system.
miniFactory-Ultra-3D-Printer-2020
Aarni
Process Monitoring System
A state-of-the-art quality assurance tool for 3D printing.
Take a closer look of Aarni workflow and main benefits of the system.
miniFactory-Aarni-Process-Monitoring-System-2020
Ultra Polymers
Advantages & Applications
What are ultra polymers and where can they best be utilized? Take a closer look at the properties and main applications of different materials.
miniFactory-Ultra-Polymers-2020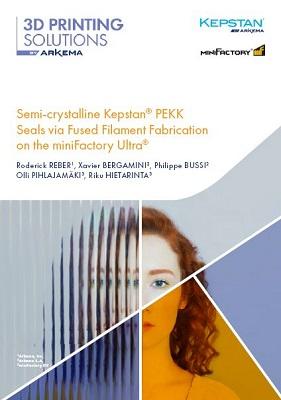 2021-Semicrystalline-Kepstan-PEKK-Seals
Whitepaper
3D PRINTING: SEMI-CRYSTALLINE KEPSTAN® PEKK SEALS ON THE MINIFACTORY ULTRA®
Summary
Arkema and miniFactory have collaborated to develop materials and processes to 3D printing functional objects made of in semi-crystalline Kepstan® PEKK.  In this white paper we will present the equipment method, and results.
Key takeaways:
Additive Manufacturing of very demanding applications: low capital cost and efficient use of materials
Additively Manufactured Semi-crystalline PEKK vs conventional PEKK seals: performance and mechanical properties comparison
The outcome: High quality and reproductive result of mechanical properties of AM PEKK with miniFactory Ultra 3D Printer