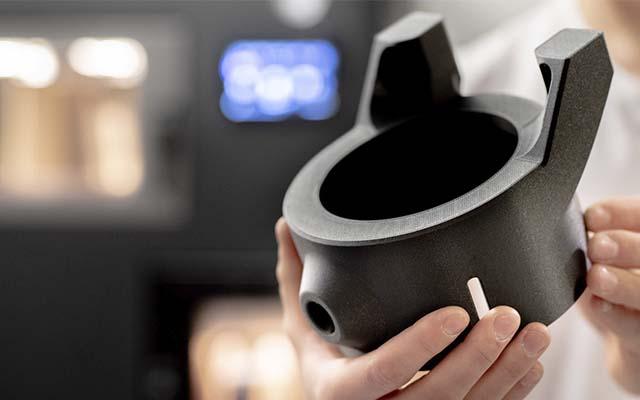 miniFactory Ultra – The most cost-efficient and versatile industrial 3D printer for ULTEM®, PEKK, PPSU, PA-CARBON, PEEK, and other ultra polymers
Ultimate strength and quality with 250°C heated chamber
Master the heat and take advantage of high-performance polymers. miniFactory Ultra's heated chamber allows great layer adhesion, high mechanical strength, low mechanical stress and low warping compared to objects printed with chamber temperature below polymers Tg.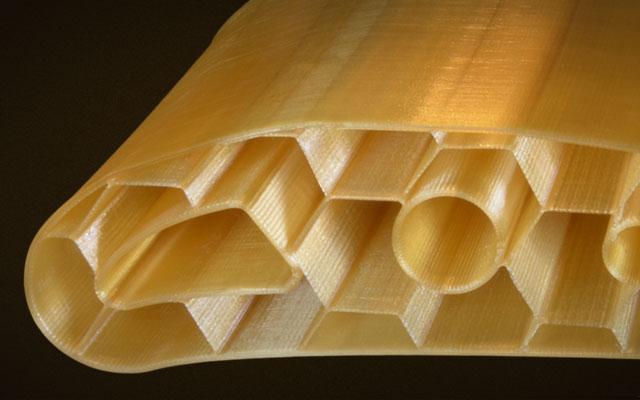 AARNI – PROCESS MONITORING SYSTEM
miniFactory Aarni – Process Monitoring System is the top layer in our high-performance polymer 3D printing ecosystem. Connect Aarni to your Ultra 3D Printer to have industry level quality control, for your 3D printed parts. To certify your printed parts, you need the precise information that Aarni provides. This line-by-line and layer-by-layer inspection of the printed part ensures that process has been completed as desired.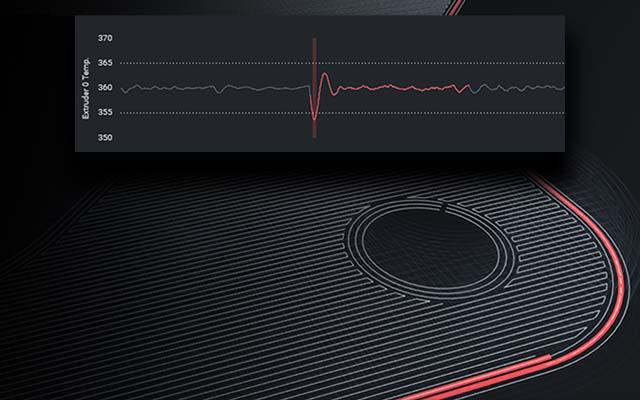 HEATED FILAMENT CHAMBER
When using high-performance polymers in 3D printing, the pre-drying of the filament is important for the printing quality and consistency. To maintain this optimal condition of the filament, we have created the Heated Filament Chamber. With the capability to store the filaments up to 120°C temperature and monitor the moisture level, you will always have optimal conditions for printing. Heated Filament Chamber ensures excellent print quality. Visual appearance of the printer is maintained since it is integrated to the printer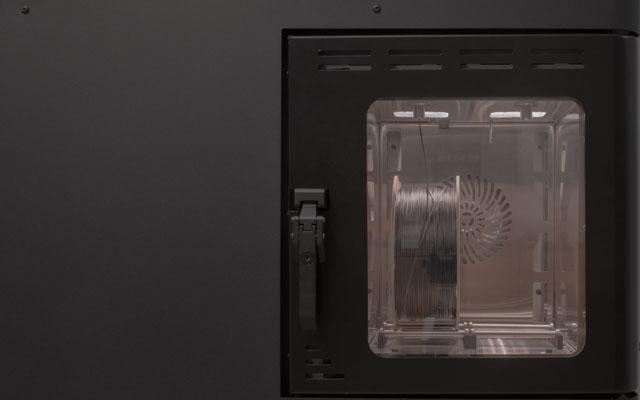 Perfected mechanics
Presicion and stability with high-end servo motors, ball screws and linear guides ensure large, dimensionally accurate and precisely repeatable prints.
Mechanical geometry tolerance 0,025mm/400mm.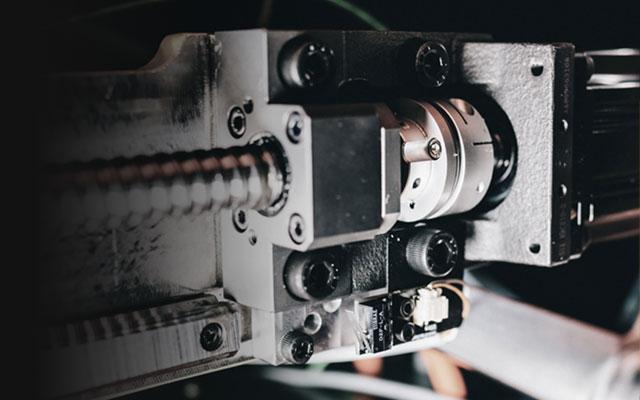 Easy to use
miniFactory Ultra's easy-to-use touch screen guides you through the printing process step by step which makes controlling the printer a fluent experience. A large touch screen allows you to adjust and fine tune the printing process on the fly and smart filament monitoring detects possible defects and prevents misprints.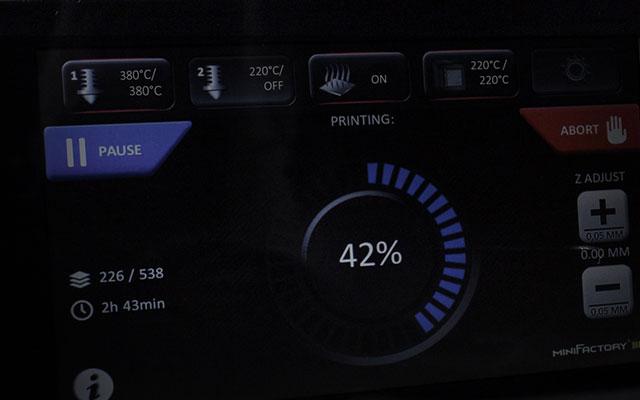 Automated and integrated post-processing
miniFactory Ultra's post-processing features are activated straight from the touch screen, providing optimized annealing process to the selected material. The benefits of annealing process include the reduction or removal or residual stresses and strains, dimensional stabilization, reduction or elimination of defects, and improvement of physical properties.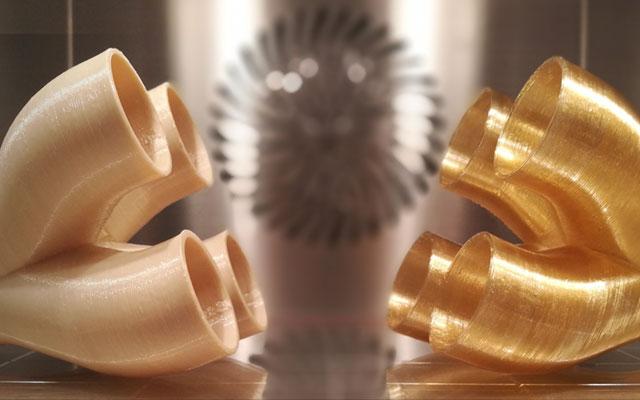 Active carbon filtering
The miniFactory is a pioneer in printing safety. The filtering will considerably reduce the amount of emissions present in the printing process of industrial polymers. The filters can be easily replaced, when necessary.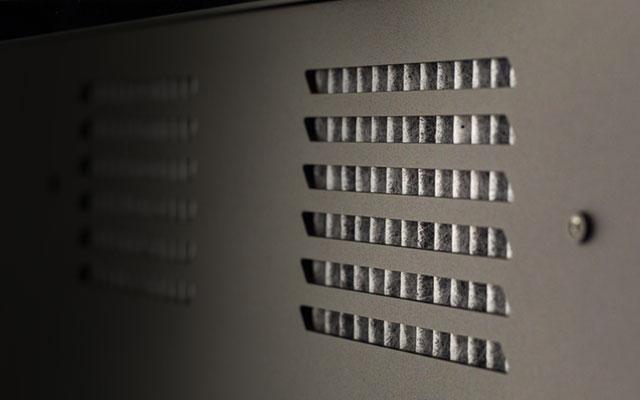 Key features
Ultimate strength with heated chamber up to 250°C
Large print size with 330 x 180 x 180 mm build area
Versatility with ultra polymers like ULTEM, PEEK, PEKK, PPSU, PA
High nozzle temperature up to 470°C
Extreme printing quality with AC Servo motors
Quality assurance by AARNI Process Monitoring System
Technical data
Device measurements: 100 x 80 x 190 cm
Device weight: 320 kg
Power requirements: 400V/16A 3-PHASE
Certification: CE
Additional features
Fully automatic calibration – optimal first layer adhesion
Separable dual extruder – cleaner printing result
Large 7" touch screen – easy to operate
Vacuum table – easy & fast build platform change
Activated carbon filtering – considerably reduce the amount of emissions
Costs of 3D printing?
After the 3D printer is in a house, costs of 3D printing consist mainly of material consumption. 3D printing or additive manufacturing is a process where material is added layer-by-layer until the object is done. It only uses the amount of material that is needed to create that particular object. Unlike 3D printing, many manufacturing processes are subtractive. It means you start with a block of material, machine it and mill it with lot of waste until it has been processed as your intended design. With 3D printing material consumption is relatively much lower.
3D printing and 3D modeling software?
The recommended printing software is Simplify3D, which has the optimal parameters and settings for each tested ultra-polymer. Simplify3D reads STL and OBJ files that are global file formats for any 3D printing technology. Files of this format are supported by almost all 3D modeling software solutions. Please note that in the modeling software the export and quality settings are in millimeters. Simplify3D printing software is available for Windows, Mac and Linux.
Printing materials?
Ultra 3D printer has the widest temperature ranges and adjustability; therefore practically all thermoplastic filaments are printable. Different polymers have different melting points and different glass transition temperatures, and therefore the combination of the nozzle and chamber temperature is different for almost all polymers. Every tested ultra-polymer has its own profile in the printing software, and there are more to come as new ones reach the market and they are tested. The users can also compile their own new profiles.
Support & Maintenance?
miniFactory Ultra is designed for industrial use and it is based on robust technology. The primary maintenance of the device is the lubrication of sliding surfaces every few months. The device has no loosening belts, so the printing resolution stays high with simple maintenance. When needed, support is quickly available either from our local partner or directly from us.
Resellers & Delivery time?
We are actively looking for new partners and resellers around the world. You can find the up-to-date list of resellers here. The easiest way to confirm the delivery time is from our local partner or directly from us.