3D printed spare parts in the railway industry
The life cycle of trains can be up to 30 years, which presents a major challenge for spare parts. Some spare parts also change as development progresses, which is a challenge for traditional manufacturing methods. Spare parts for newer trains are often widely available. When it comes to a train more than 15 years old, the issue is much more complicated. In most cases, such spare parts are no longer available, or tools do not exist. This makes the cost of manufacturing individual parts very high and unprofitable for everyone involved in the process.
3D printing offers the possibility to manufacture spare parts individually or in small series. It is also more cost-effective, and the part can be manufactured directly to where it is needed. Traditional methods of manufacturing spare parts, for example like milling and injection molding are more expensive. This is partly due to, the amount of material wasted during the process, and needing to make larger batches at one time to stay cost effective.
By utilizing 3D printing, less material is wasted. There is also no need to keep large quantities of spare parts in storage. There is also no need to wait for parts stored at locations far away to be shipped to where they are needed. Spare parts are manufactured where they are needed and when they are needed. We can cost-effectively develop and scale the manufacturing network. This could speed up the production of spare parts by up to 90% compared to traditional methods.
Railway standardization
Even for the simplest parts, the material they are made of matters. All materials used in railway vehicles must meet the EN45545-2 standard. This is to achieve the highest possible level of safety in the event of a fire. There is a wide variety of materials that meet the standard. Different materials have different classifications, i.e., the right material is selected according to the requirements of the application.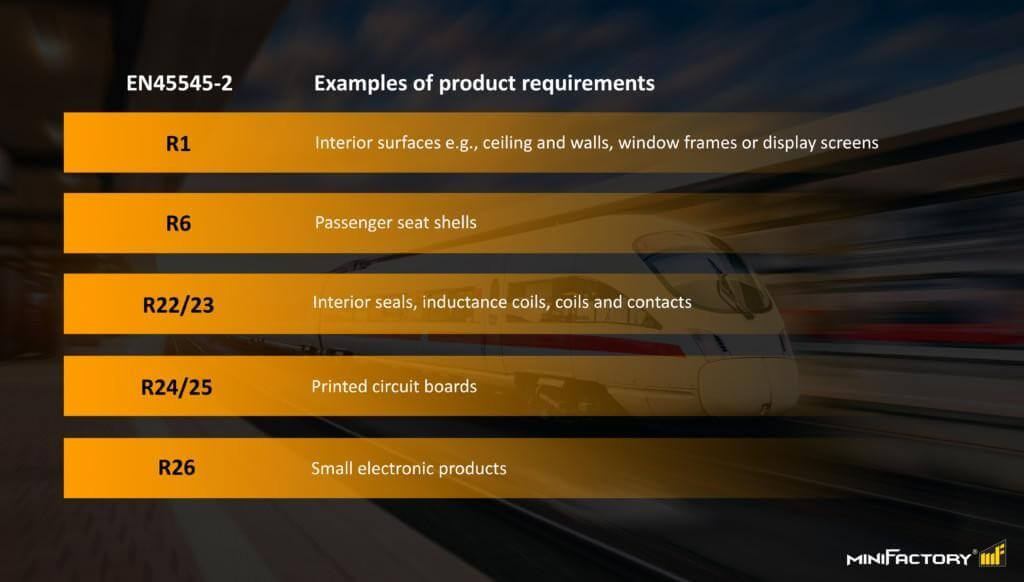 miniFactory technology, a perfect fit for railway
miniFactory is working in cooperation with material manufacturers and OEM:s to find the right materials for different applications, and even optimizing the process for specific materials. miniFactorys technical team has many years of experience in optimizing the manufacturing process for different types of materials and applications. Together with our professional service network, covering over 25 countries, we can ensure efficient and effortless start-up for your own system. The miniFactory Ultras all-in-one system will allow you to focus on integrating 3D printing to be a part of your production as soon as you turn on the power switch.
The miniFactory Ultra 3D printer is capable to print multiple different EN45545-2 certified materials. For example, PA and PC based materials, all the way to high-performing materials like ULTEM9085 and PEKK. The printer's 250˚C heated chamber ensures an optimal and consistent environment for component manufacturing. The device's servo driven technology takes manufacturing technology's repeatability and reliability to a whole new level. No matter the material the Ultra 3D printer will print with the same high quality and repeatability every time.
The AARNI process monitoring software we have developed can be utilized in the quality control and certification of the spare parts manufacturing process. Once a spare part has been tested and approved for use by the manufacturer, Aarni can be utilized in quality control by ensuring that the spare part continues to be manufactured by a process approved by the manufacturer. The uniformity of the process is the key to reliable manufacturing and the uniformity of parts. This is a significant factor in the production of railway spare parts.
With the Aarni program, the key parameters of a part can be viewed visually. A separate production report can also be obtained for the printed part. The Aarni system works in full synchronization with the Ultra 3D printer and can be utilized in part certification.
Examples of 3D printable railway spare parts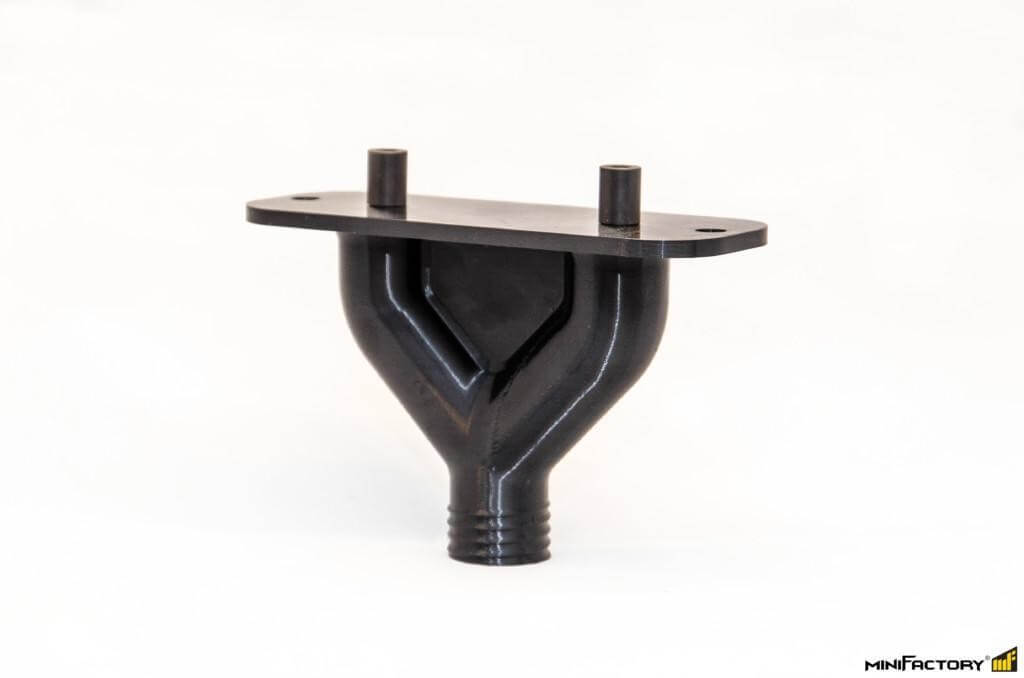 This sensor bracket is lightweight, has all in one integration including cover for wires and attachment thread. It has complex geometry that can't be manufactured with traditional manufacturing methods, without the use of complex molds. Part size is 16 x 11 x 6 cm, and the cost per part 25€ made out of ULTEM AM9085F.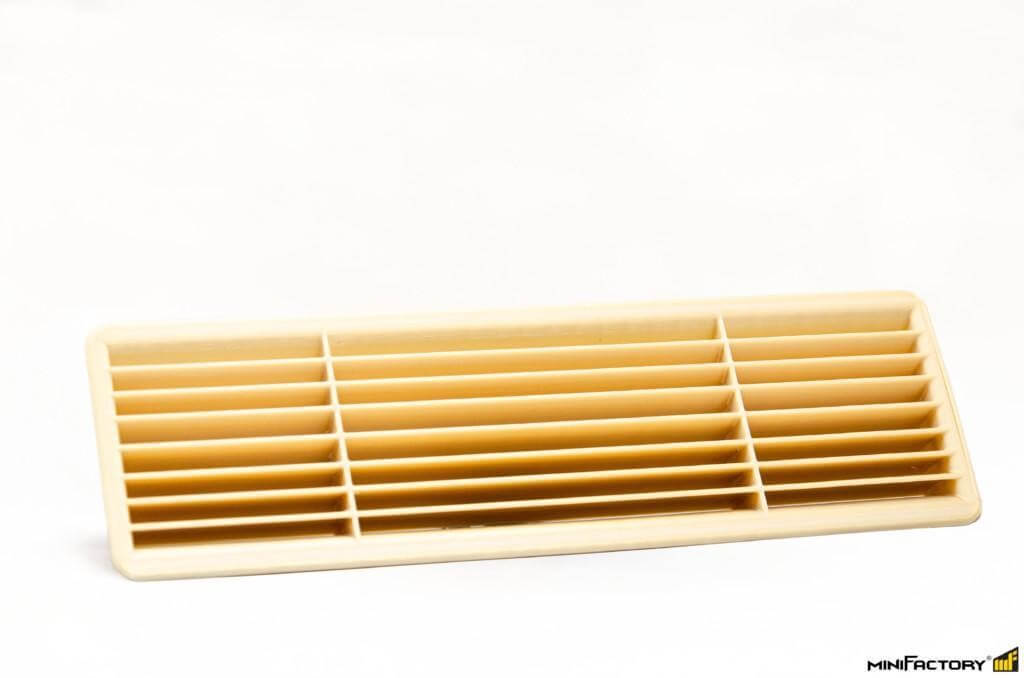 This ventilation part has optimized airflow and snap-to-fit attachment. This part is extremely challenging to manufacture, and would produce large amount of material waste. Additive manufacturing reduces costs significantly. Part size 32 x 10 x 3 cm, and the cost per part 55€ made out of ULTEM AM9085F.
Battery cover made with PEKK. PEKK is an EN45545-2 grade material with extremely good chemical and mechanical properties which makes it good choice for this application. This cover would be easy to manufacture with traditional methods. However, with additive manufacturing there is no material waste, so cost per part is significantly lower. Part size 12 x 10 x 3 cm, and the cost per part 90€ made out of PEKK-A.