This blog post opens the curtains and tells what led Sorv-Elektro to the investment decisions, what demand could be met after the decision and a view of the future of sub-contractors with capability to produce parts with these extreme materials.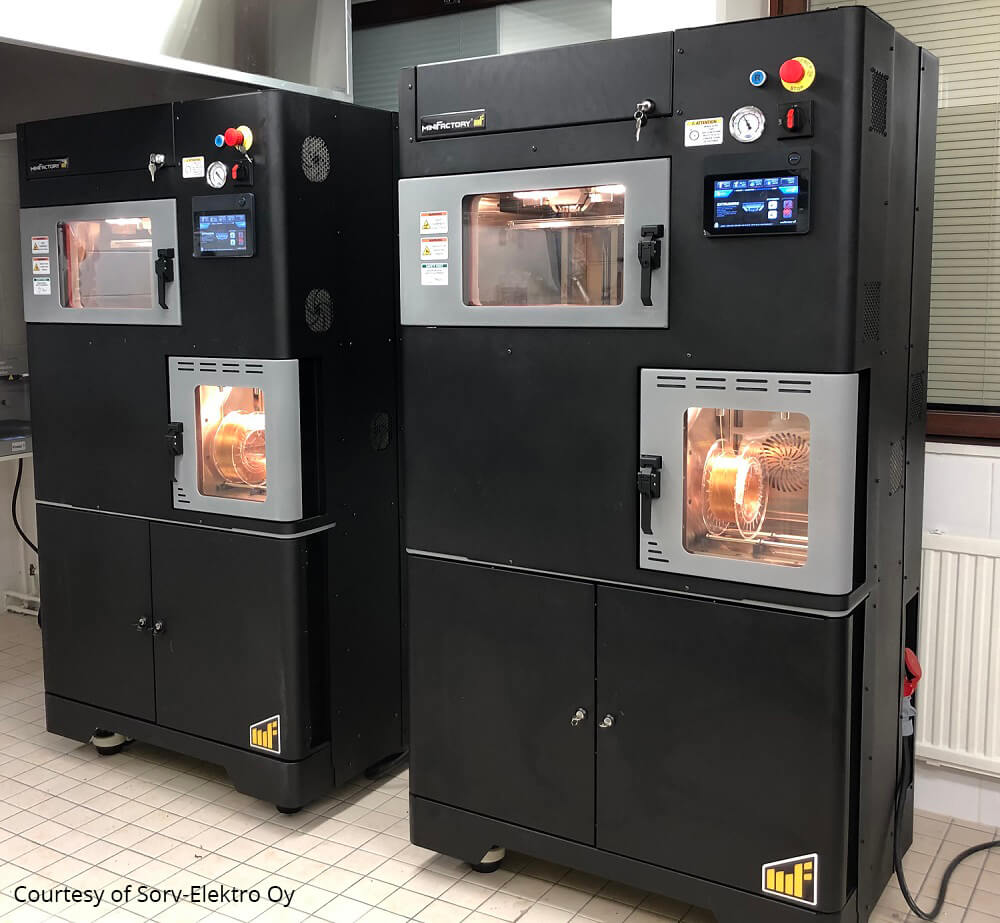 3D PRINTING ALONGSIDE TRADITIONAL MANUFACTURING METHODS
Sorv-Elektro Oy and Salon Metalelektro Oy are part of SME Elektro-Group Oy that enables comprehensive contract manufacturing services from design to finalized goods. The modern machinery and equipment of Salon Metalelektro enable manufacturing of demanding mechanical components. Sorv-Elektro provides expertise in electronics, hence reinforcing the entity. Side by side these factories provide synergy benefits to their customers.
One part of improving the manufacturing capability was the decision to invest for industrial 3D printing machinery. During year 2020 the first investments were made and the first miniFactory Ultra 3D printer was deployed to the facilities of Sorv-Elektro in Salo, Finland. The desire to expand into additive manufacturing was driven by one of their customers, who needed parts with complex geometry and demanding properties.
"Sorv-Elektro wanted to meet this demand and the investment process was started. After comprehensive comparison and a series of test prints with miniFactory the purchase decision was made. Root causes for the decision were the rapid, professional, and local service combined with capable machine that did what was promised." Joni Niemi, CEO, Sorv-Elektro Oy,
The utilization of printing high-performance polymers was kickstarted by a comprehensive user training held by miniFactory and then boosted by the customers of Sorv-Elektro. It's natural to have a learning curve when you adapt a new technology but thanks to multiple customer cases right in the beginning the know-how accumulated rapidly. By utilizing this expertise, soon after high-performance polymer 3D printing became a standard method of manufacturing at Sorv-Elektro. Through these steps, the learning curve of implementing new technology was short and the investment became profitable rapidly.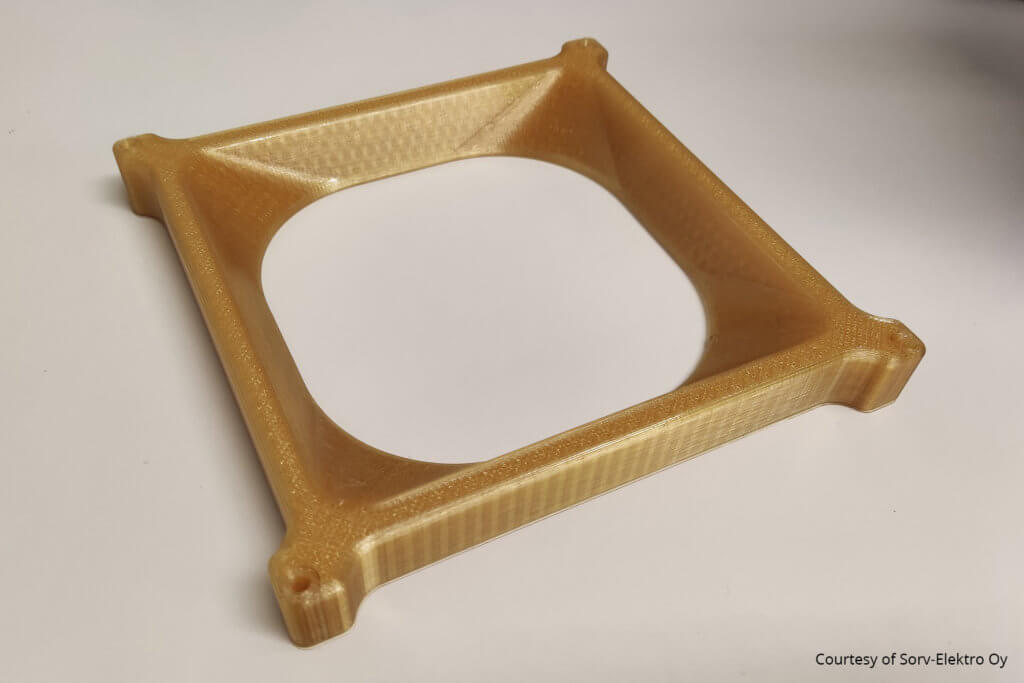 MORE 3D PRINTING CAPACITY TO MEET THE DEMAND
7 months after the deployment of the first miniFactory Ultra 3D printer, Sorv-Elektro contacted to purchase another unit due to the increasing demand and the confirmed value adding aspect of the first machine.
With 3D printing, Sorv-Elektro was able to significantly improve their service portfolio. Now they can offer parts manufacturing throughout the product lifecycle, from prototypes and series production and all the way to spare parts manufacturing. As a key figure for the first miniFactory Ultra, the number of parts manufactured for customers was over 95%. The rest 5% was mainly jigs and fixtures for their own production. The high demand from the customers and interest for internal research and development meant, that the first Ultra 3D printer has not had a day off since the initial deployment.
To meet the increasing demand by the customers and to make internal testing possible, Sorv-Elektro decided to invest for a second Ultra 3D printer after only 7 months from the deployment of the first one. Now these two miniFactory Ultra's have proven that manufacturing with industrial 3D printer is a flexible method of meeting the demand of their customers. The industrial level repeatability has been a positive surprise and has created the trust on the machines for the operators.
"Possibility of manufacturing more complex shapes, lighter structure, the freedom to choose just the right material and to get it on 1kg spools (not MOQ of a metric ton) has been a game changer. Combining that with the speed of getting a physical end use part from an idea, without programming makes manufacturing with Ultra 3D printer a no brainer" Anssi Laaksonen, Account Manager, Sorv-Elektro Oy

With the ever-increasing customer demand for the printing service, industrial 3D printing has become Sorv-Elektro's preferred method of manufacturing parts. This has led to a mindset where 3D printing is often considered the primary method of manufacturing. This highlights the innovativeness of Sorv-Elektro.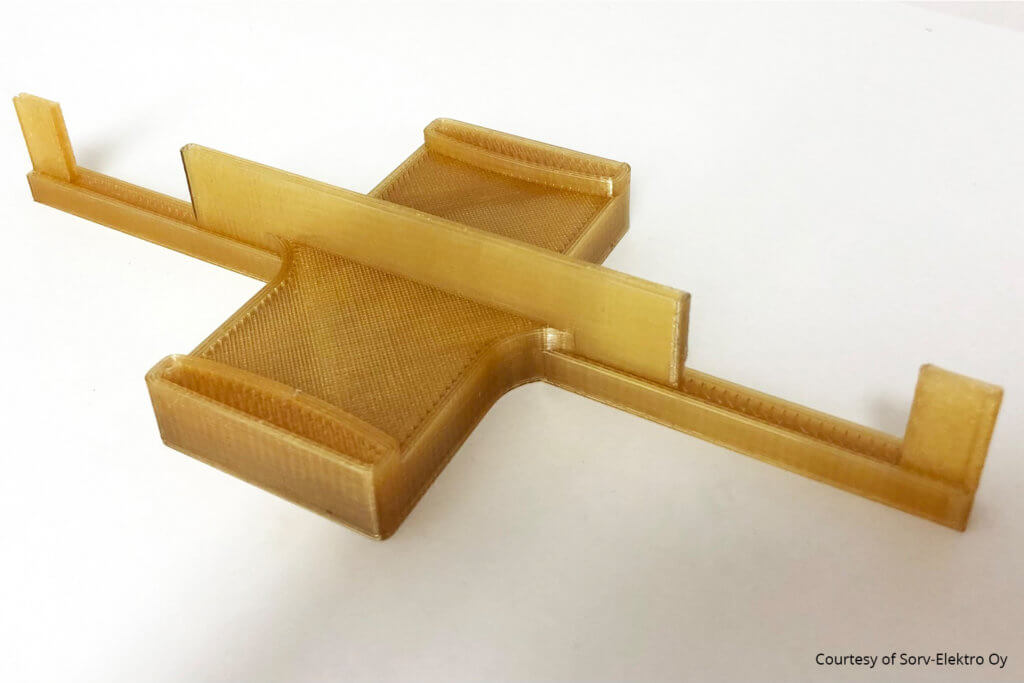 NEW ERA OF MANUFACTURING – INDUSTRIAL 3D PRINTING AS A SERVICE
Now that the world is moving towards a more sustainable future, localized on-demand manufacturing is becoming more common. Therefore, the need for flexible subcontractors with professional additive manufacturing capabilities is potentially growing rapidly. When parts need to be manufactured to meet environmental goals, on tight schedules, and more efficiently, industrial 3D printing is the solution.
With industrial 3D printing we can achieve part production without unnecessary warehouses, challenging logistical chains or a risk of getting your parts stuck on canal. When the production is done by you or your local partner, you can guarantee that the parts are made on-time and according to your needs. Combining this with the geometrical freedom, structural lightness and other properties of high-performance polymers will open unpresented opportunities.
Contact information of Sorv-Elektro Oy
For more information about operations of Sorv-Elektro, contact Joni Niemi, joni.niemi@sorv-elektro.fi
For printing services or questions about part production, contact Anssi Laaksonen anssi.laaksonen@sorv-elektro.fi